Welcome to We B Jamin Farm
Tucson's farmers' markets have been graced with We B Jamin Farm jams and jellies for many years, and owner Barbara Carr makes prickly pear jellies with the best of them. But here's a secret: Barbara didn't spend her childhood reaching past spiny pads with tongs in one hand and tweezers in another, as one might expect. Her birthplace of Haines, Alaska couldn't have contrasted our dry Sonoran desert more, but it was in those frosty conditions that Barbara cultivated an understanding and love for preservation. In Alaska, preserving fruits and vegetables was necessary to put up the short growing season's bounty for the infamous long, dark winters. In Tucson, it is simply for fun.
Another example of our products.
Barbara introduced her family recipes to Tucson's farmers' markets in 1998. At the time, Barbara and her family spent only the winters in Tucson, but it wasn't long before they were pulled into the desert more permanently. By 2004, Barbara had established residence as well as a commercial kitchen in Tucson, where her various products could be made. Then, with the help of her Papa and his green thumb, she expanded her 4.5-acre plot west of Tucson to include greenhouses for tomatoes, cucumbers, peppers, and a variety of other summer crops. This newer undertaking was wittingly named "We Be Jamin' Farms."
We Be Jamin' Farms also cultivates native Arizona plants like prickly pear cactus and mesquite trees from their property. Barbara grinds the mesquite pods to blend the nutty and nutricious sweet meal that she incorporates into spice rubs, and she harvests prickly pear fruit every year to produce her famous jellies and syrups. Today, Barbara offers more varieties of jams, jellies, and sauces than she has colors of crocs (and that, for those who have not glanced down, is a lot!). And, as if that were not enough to keep her busy, she has been pickling and making relish to compliment her line of preserves for the past two summers. All of her products are made using wholesome ingredients such as pure cane sugar, fresh pesticide-free fruits, and natural pectin.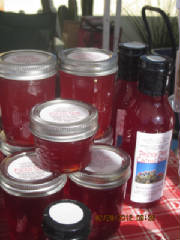 *